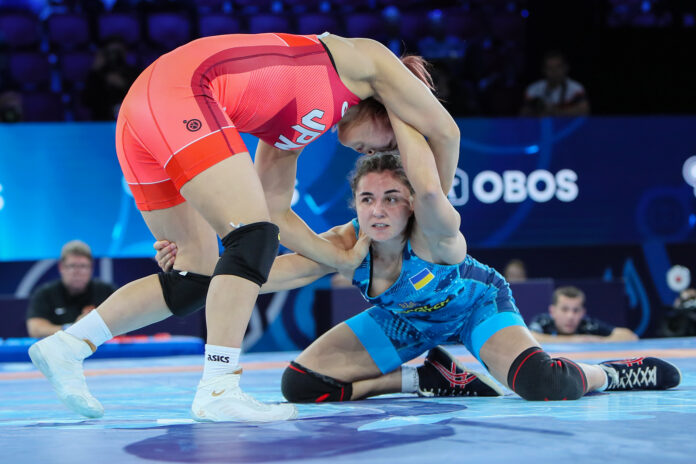 For the first time in history, men's and women's Freestyle World Cup wrestlers from around the globe, including the Ukranian women's team, will compete in side-by-side events on the same international stage – from Dec. 10-11 at the Xtream Arena in Coralville. Elite athletes from 16 countries will come together to celebrate their sport and their countries. 
"We are so excited to be able to host this event," Think Iowa City President Joshua Schamberger stated in a release. "It will be as close to an Olympic experience as you can get without having to travel abroad or pay for Olympic-priced tickets. And we expect it to have a major economic impact on our region."
The World Cup is the annual international dual-meet championships. The top five countries to qualify for the Men's Freestyle World Cup include the United States, Iran, Japan, Georgia and Mongolia. The top five countries for the women's teams are Japan, United States, China, Mongolia and Ukraine. Qualifying countries are determined based on the overall team results from the Senior World Championships events held in September in Belgrade, Serbia. 
There will also be an All-World Team represented by top athletes whose countries did not qualify. This team will represent another eight to nine nations, including three men's wrestlers from Kyrgyzstan. A delegation of 25-30 people from Kyrgyzstan will also be on hand, including their women's team, who will not be participating but will be there to cheer on team members. 
Beyond wrestling, there are many reasons people will want to attend, Mr. Schamberger said. 
"The World Cup will truly be a global event, with thousands of local wrestling fans filling the stands, hundreds of people in attendance visiting from around the world, and tens of thousands of fans tuning-in from their home countries," he said.
"We expect this event to have a huge economic impact on our region,"  he added. "In 2018, we hosted the men's freestyle World Cup and the impact was estimated at just over $5 million. So from a cultural and economic impact, this event really has it all."
More information about the event, the teams, the schedule, and ticket purchases can be found at worldcupiowacity.com.