(Maryville) — Maryville boys soccer coach Jesus Gonzalez has been named the Midland Empire Conference Coach of the Year. 
Aside from Gonzalez's honor, Jaxon Staple (goalie), Boyd Gallagher (defender), Kason Teale (midfielder) and Truett Haer (forward) were first-team choices for the Spoofhounds. 
Marcus Henggeler (defender) and Quinn Pettlon (midfielder) were second teamers. 
Honorable mention nods went to Gabriel Baldwin (defender), Tuan Jacobson (midfielder) and Lane Hazen (midfielder).
View the full teams here. 

Download PDF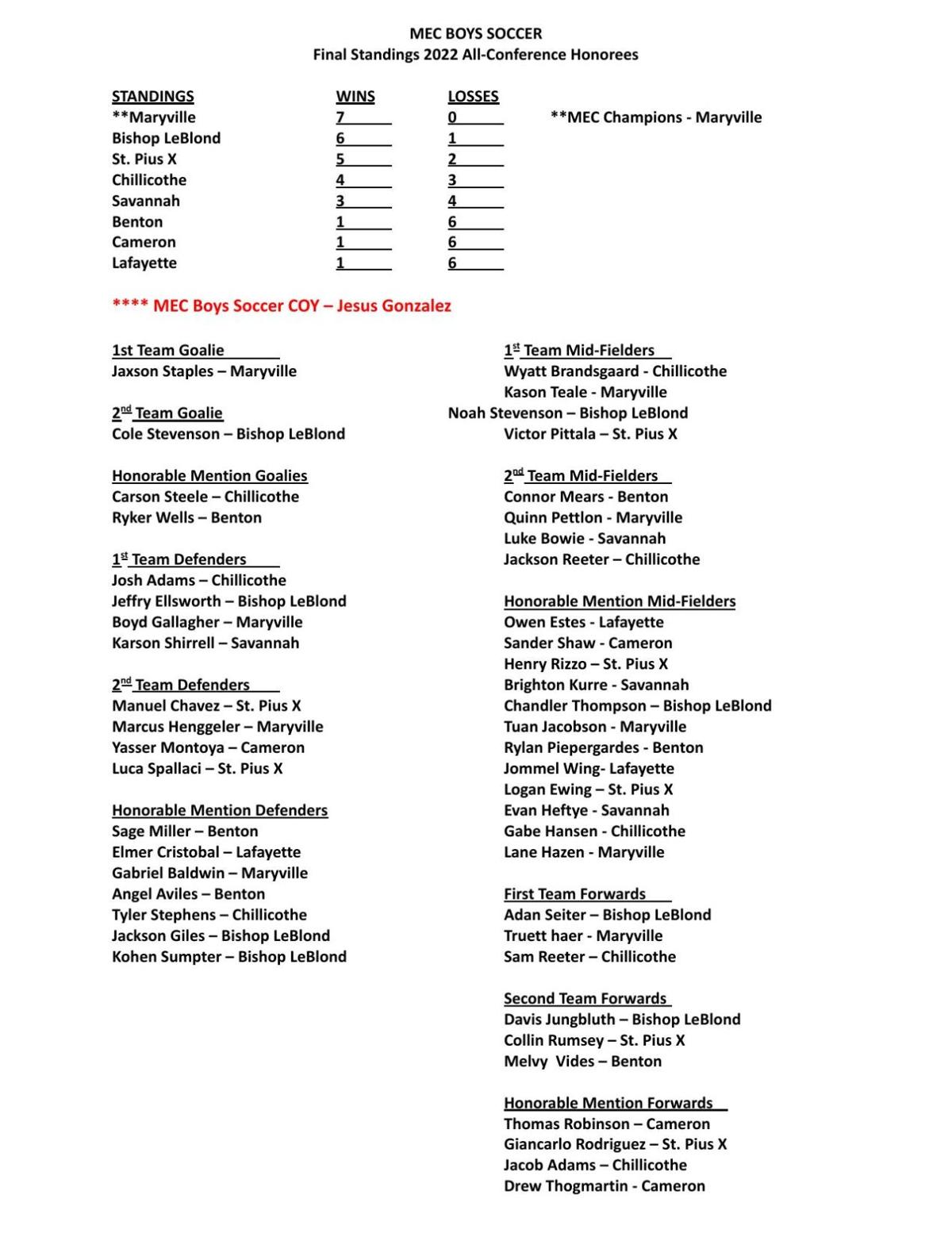 ---
PREVIOUS 2022 KMALAND POSTSEASON AWARDS 
Missouri Class 3 District 16 Volleyball
Rolling Valley Conference Volleyball
Missouri River Conference Volleyball
Corner Conference Volleyball
275 Conference Volleyball & Football
Pride of Iowa Conference Volleyball
Class 8-Player District 10 Football
Class 2A District 8 Football
Midland Empire Conference Softball
Class 8-Player District 8 Football
Class 4A District 1 Football
Western Iowa Conference Volleyball
Hawkeye Ten Conference Volleyball
Midland Empire Conference Volleyball
Class A District 7 Football
Bluegrass Conference Volleyball
Pioneer Conference Volleyball
Class 3A District 1 Football
Class 8-Player District 9 Football
Class A District 8 Football
Nebraska Capitol Conference Volleyball
Nebraska Class C-1 District 1 Football
Trailblazer Conference Volleyball
Class 8-Player District 7 Football